I'm cleaning up my profile ^^


Muse list


rainbow_lace (musebox)

→Yamada Ryosuke @
loveme_showme (Johnny's Entertainment)
→Yabu Kota @
yabunbun (Johnny's Entertainment)
→Yaotome Hikaru @
8otome_hikaru (Johnny's Entertainment)
→Arioka Daiki @
daikingu (Johnny's Entertainment)
→Okamoto Keito @
keito_rin (Johnny's Entertainment)
→Fujigaya Taisuke @
sexy_taipi (Johnny's Entertainment)
→Nakajima Kento @
love_kenty (Johnny's Entertainment)
→Asada Tetsuya @
makada_no2 (Shiritsu Bakaleya Koukou)
→Noguchi Satoshi @
nobread_nolife (Shiritsu Bakaleya Koukou)
→Satonaka Yuuki @
saikyounoyuuki (Shiritsu Bakaleya Koukou)
→Kawanaka Youji @
kawanaka_youji (Bad Boys J)
→Hiro @
no1_ikemen (Bad Boys J)

Former roleplays


esthete_pro (Johnny's Entertainment)
→Sakurai Sho @
souzou_no_mukou
lion_crest (Prince of Tennis)
→Fuji Yuuta @
daredemo_nai
→Kai Yuujirou @
reverse_lefty
poignation (multifandom)
→Alphonse Elric @
katze_niedlich (Fullmetal Alchemist)
→Nakano Hiroshi @
unlucky_guitar (Gravitation)


magic_helmet_rp (Fullmetal Alchemist)
→Alphonse Elric @
shiny_alchemist
mugenjou_high (multifandom)
→Sha Gojyo @
_kappa_maki (Saiyuki)
→Sakano @
producer_man (Gravitation)


Lovebars



TeniMyu Second Cast is True Love!

SAY WHAT?!

*pnish* is パニック Love ♥

Tuti's Forehead is Love

Tuti x Nagayan is 6 Years' Love and Still Going Strong


Mori x Daiki is a Domestic Kind of Love ♥


Eiji/Daiki is Can't-Not-Touch Love ♥

Sano Daiki Jr is emotionally unstable love!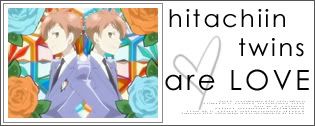 created by
vivamente

♥ Hikaru x Kaoru is Twincest Brotherly Love ♥

EdxRoy is Love

ScarxAl is pedophilia love.

Tohma is Love